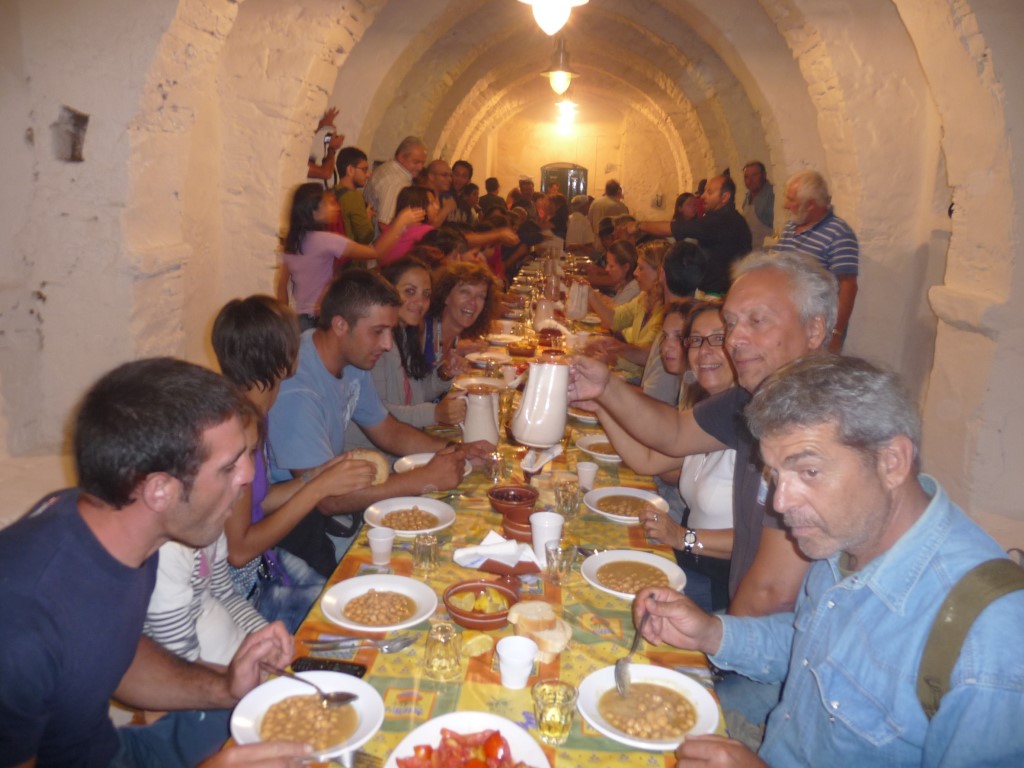 5 Top Greek Restaurants with Traditional Greek Cuisine in Sifnos Island – Exploring Authentic Flavors
Are you in Sifnos Island in Greece and looking for "Greek restaurants near me", because you want to indulge in the best local traditional Sifnian food and dishes our island has to offer? Food is a universal common pleasure, so it is crucial to present you with our suggestions on where to eat, while being in our island. This is Riris Papatsarouchas, owner of A La Mer Sifnos boat rental company, and Sifnos is my home island. In this article, I am sharing the best traditional Sifnian restaurants-taverns where you can enjoy all the mouthwatering delicacies, like a local would!
Sifnos is a serene Greek island known for its picturesque landscapes and rich cultural heritage. Located in the middle of the Aegean Sea, this charming island is not only renowned for its breathtaking landscapes but also for its unique culinary traditions. With a deep-rooted connection to local flavors and a proud heritage of traditional cuisine, Sifnos is a gastronomic paradise for food enthusiasts.
Hop on a Greek Sifnian Culinary Adventure with me – Who was Nikolaos Tselementes from Sifnos?
Here, we embark on a culinary adventure, exploring my top five restaurants and taverns on the island that excel in serving authentic Sifnian dishes. We delve into the remarkable legacy of Nikolaos Tselementes, a culinary pioneer who hails from Sifnos. Nikolaos Tselementes is a significant figure in Greek culinary history, and his connection to Sifnos adds an extra layer of pride to the island's gastronomic legacy.
Born in Sifnos in 1878, Tselementes became one of Greece's most influential chefs and cookbook authors. His passion for cooking led him to study the culinary arts in France, where he refined his skills and gained extensive knowledge of French cuisine. Upon returning to Greece, Tselementes embarked on a mission to revolutionize Greek cooking.
He believed in the importance of combining traditional Greek flavors with modern techniques, ultimately elevating Greek cuisine to new heights. In 1910 Tselementes published his groundbreaking cookbook, "Odigos Mageirikis" (Cooking Guide), which became a staple in Greek households for generations.
Top 5 Authentic Traditional Greek Restaurants-Taverns in Sifnos Greece
Nestled on the far side of Kamares (the port of Sifnos), "Argyris" is a family-run seaside tavern that has been delighting locals and visitors alike since 1989.
The warm and welcoming atmosphere sets the stage for an unforgettable dining experience. Indulge in classic Sifnian dishes, such as "Mastello" (slow-cooked lamb), "Revithada" (traditional Sifnian chickpea soup), and the best lamb chops on the planet, all prepared with love and using fresh, locally sourced ingredients. The tavern's commitment to preserving authentic flavors is a testament to Sifnos' culinary heritage.
Located in the charming coastal village of Faros, "Limanaki" is a hidden gem that offers a true taste of the sea since the owner is also a local fisherman. With a focus on fresh seafood and fish caught daily, this restaurant showcases the island's coastal bounty. Try their famous "Psarosoupa" (fish soup), grilled octopus, or delectable lobster pasta. The inviting ambiance, combined with the delightful flavors, makes Limanaki a must-visit destination for seafood enthusiasts.
"Mosaico" Café – Restaurant is located further up in the wonderful and ever so picturesque village of Artemonas next to Panagia Kochi church about 400 meters away from Artemonas parking lot. It serves Greek mezedes (tapas plates), vegan and vegetarian dishes, seafood, and many meat options including excellent meatballs!
Opens daily after 18.30!
Situated on the eastern side of the island in the bay of Apokofto next to the most picturesque church of Panagia Chrissopigi, "Tsapis" seaside Tavern, a 1967 establishment, is a delightful fusion of traditional Sifnian cuisine with a contemporary twist. The menu offers a wide range of innovative dishes inspired by local flavors. Don't miss their famous "Moussaka", zucchini balls, and "Mastello" (slow-cooked lamb).
For a true Sifnian feast, head to "Margarita" in the enchanting village of Artemonas. This traditional Café – Tavern prides itself on using organic, locally grown ingredients to create mouthwatering dishes.
Delve into their exceptional "Mastello" (slow-cooked lamb), chickpea balls are known as "Revithokeftedes". The friendly staff and rustic setting add to the overall charm of the dining experience, making it an unforgettable stop on your culinary journey.
Sifnos Best Taverns and Restaurants – Where and What to Eat Delicious Local Food and Mouthwatering Dishes
Sifnos' rich culinary heritage comes to life in these personal top five restaurants and taverns, where traditional flavors are celebrated and cherished. From mouthwatering slow-cooked lamb (Mastello) and traditional Sifnian chickpea soup (Revithada), to delectable seafood dishes and innovative twists on traditional recipes, these establishments provide a captivating dining experience. Immerse yourself in the gastronomic wonders of Sifnos, savor the local flavors, and create lasting memories as you explore the island's top culinary destinations.